Speaking engagements and events featuring our attorneys.
**Update - 4/15/20: Click here to watch video of this event.**
Since we cannot head out into the community due to the coronavirus pandemic, we are hosting a Facebook Live presentation so that you can learn from home: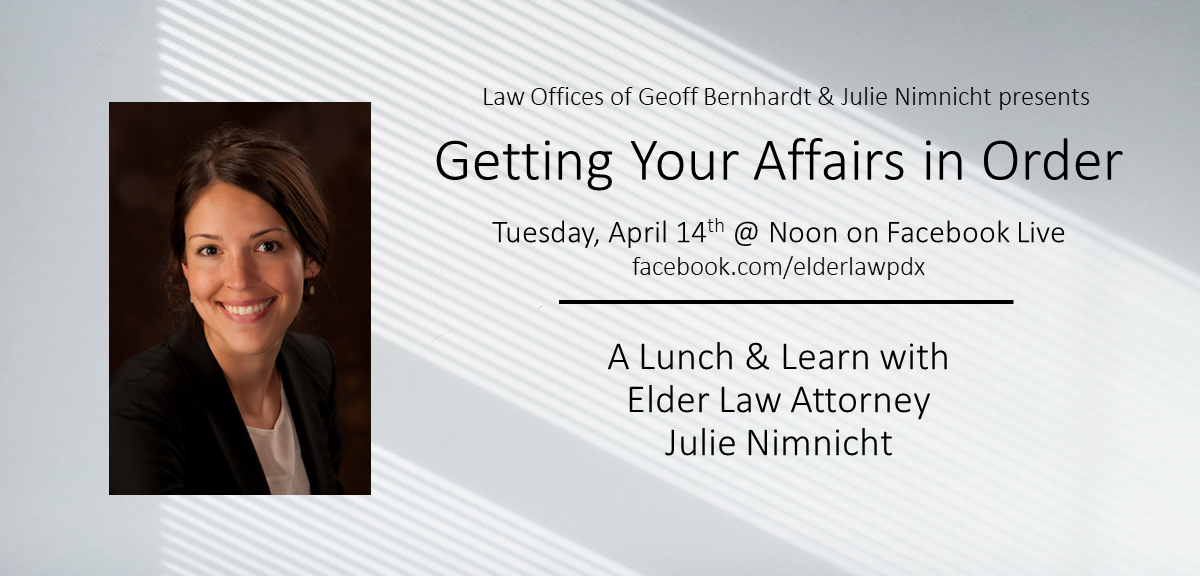 Join us at facebook.com/elderlawpdx for a Facebook Live at noon this coming Tuesday, April 14th, when attorney Julie Nimnicht will talk about estate planning and incapacity planning, especially with respect to the uncertainty of our current situation. She will also address how we are handling planning and signings now and moving forward in order to keep our clients safe.
Let us know what you want to know! Please send in your questions ahead of time, and Julie will address them in the Q&A segment of the presentation. You can email your questions to tara@elderlawpdx.com or submit them anonymously at https://forms.gle/nSHFNQjZSXy5STEN7.
Please note that you do not need a Facebook account to access Julie's presentation and that if you can't watch it live, it will also be available after the event ends. If you do have a Facebook account, "liking" and "following" us will make it even easier for you to find the live stream.